How To Use Snugbe Money Belt To Safeguard Your Valuables
You can watch the video below to find out 1) 3 main benefits of the travel belt 3) how to check the quality of the belt 3) how to adjust the strap
These are our best recommendations for using your Snugbe travel money belt. Please, be aware that there is a big difference between a waist bum bag and a waist travel money belt/pouch/bag. The latter is meant to be hidden under your clothes – therefore it is: 
1) light
2) thin
3) comfortable – with an air-mesh backcloth that reduces heat when worn under clothes
4) designed for light-weight valuables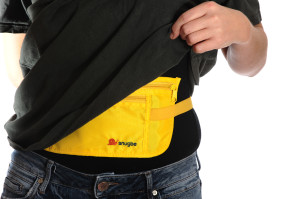 Light-Weight Valuables
This belt is made to carry light-weight valuables like your passport, tickets, booking info, your ID card and bank notes. You can choose to put your mobile phone in the belt too – which is a heavier item. (Though we do not recommend to place a mobile phone close to your body when it is switched on.)
When you carry too many heavier items in the bag, for example coins and mobile phone, you might experience that you need to tighten up the strap. Here is our solution for this problem:
1) keep only the high value bank notes in your belt, plus other most important valuables
2) have some petty cash in a separate purse, keep it in your pocket, take it out when needed – instead of reaching for it in your hidden money belt and exposing your "secret" to the world.
3) put all your items to the pockets of the belt and then adjust the strap using the buckle
4) if you want you can put a paper clip next to the buckle so you skip readjusting the strap every time you put it on.
More Ideas To Safeguard Your Valuables And Stay Safe
Take copies of your passport and flight tickets and put it in different places – as a backup. Keep the coins in separate purse and big notes in the money belt. Don't take anything on your travels that you cannot afford to lose. Have important numbers written on a piece of paper in case your technology lets you down. Other recommendations to increase your personal safety during your journey:
Protect Your Identity with RFID blocking wallets and travel gear 
Never let anybody to take your credit card out of your sight
Hide your expensive gadgets away from the public eye
Never leave your drink unattended
Use your intuition and gut feeling when dealing with strangers